Quality Education School follows the IGCSE curriculum, starting the academic year from September to June. The registration is opened for students to different grades as per the age approved by the Ministry of Education, Kingdom of Bahrain. An admission test along with an interview will be conducted for the students from KG 3 to AS / A Level classes at the time of registration. Admission will be subject to students meeting the requirement of the admission rules and regulations laid down by the school.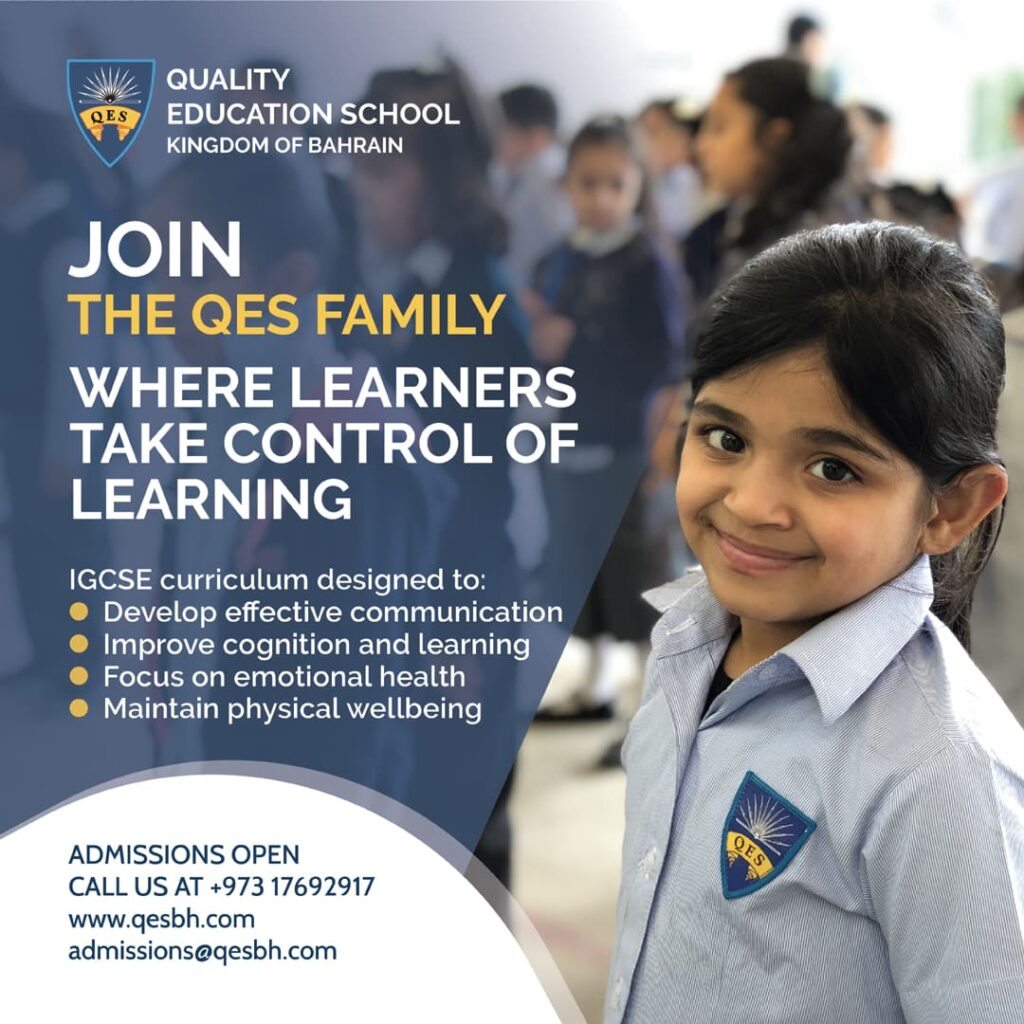 Being One Among The Most Affordable Private – International British Curriculum Schools In The Region, The Quality Education School, Bahrain, Works Towards Building A Strong Linguistic, Intellectual And Value Based Foundation For Your Children!
With All Of Our Procedures Digitized, You Can Now Complete The Entire Enrolment Process From The Safety Of Your Homes!
Quality Education School offers K-12, British Curriculum (Cambridge & Edexcel) accredited to International General Certificate of Secondary Education (IGCSE); simultaneously incorporating Bahrain National Curriculum for Arabic Language, Citizenship, Bahrain History and Geography as well as Islamic Studies.
Our admissions team will be happy to help with all enquiries regarding our school. 
For More Information Please Contact us Today by Call or WhatsApp on +973 17692917 or Email us at admissions@qesbh.com
The Admission Process includes the following:
Admission test is conducted in core subjects: English, Maths, Science and Arabic language skills Each exam will be 1 hour in duration.
Candidates qualifying the admission test will be interviewed by academics in-charge.
Admission to higher classes is on the basis of their results in the previous grade and the result of admission test.
REQUIRED DOCUMENTS FOR ADMISSIONS
Upon clearing the interview, candidates are requested to submit the following documents:
Copy of Birth Certificate
Copy of Child's Passport and CPR
Copy of Parent's passport and CPR
Three Passport size photos of the child
Progress Report/Marks sheet from the previous school
Transfer Certificate from the previous school
Conduct and character certificate
Vaccination Book
Clearance certificate from the previous school (applicable only for higher classes)